Midland Deburr and Finish gear up for Midlands automotive boom
27/11/2012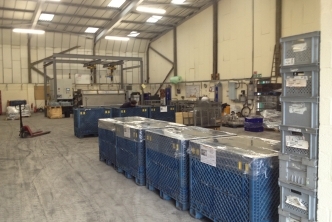 Midland Deburr and Finish are stepping up to the demands of the automotive boom, which is emerging in the Midlands, with investment in facilities and equipment to increase component finishing capacity.
The Dudley based firm has invested in new vibro deburring and barrel mass finishing machines to extend their existing barrelling facilities. Furthermore, their premises have now been increased from 7500 sq ft to two units totaling 10,000 sq ft units to accommodate the firm's plans to install a further hermetically sealed solvent degreasing machine next year.
On-going changes in legislation have bought about extensive new business for Midland Deburr and Finish as companies are no longer able to use certain types of solvent de-greasing equipment when de-greasing their components. High level investment in compliant de-greasing equipment has proven to be a barrier to continued processing in house so companies find it far more convenient and cheaper to send it to Midland Deburr and Finish.
To cope with the increasing demand and continued success of the firm, they are also looking to recruit extra staff next year. Chris Arrowsmith, Managing Director added: "We are looking forward and thinking ahead so that we have the capacity and the best equipment to continue competing effectively."
Midland Deburr and Finish have recently secured a contract to de-grease aluminium components which are used in the centre console assembly for the brand new recently released Range Rover model. Their de-greasing process is used prior to application of laminated wood ensuring excellent adhesion. Midland Deburr are already de-greasing pressed components which are used on the Range Rover Evoque.
Midland Deburr and Finish Ltd employ vibro deburring and barrelling processes to provide a wide range of mass finishing services for ferrous and non-ferrous components, including deburring, metal laundry, radiussing, scale and rust removal, polishing and pre-plate/paint finishes.
They are able to work with components ranging in sizes from 2mm to 1300mm, in batches of up to several thousand. Moreover, the firm has a distinct advantage as the only company currently in the region able to offer a subcontract de-greasing service using equipment that is compliant with the Solvent Emissions Directive (SED).
As the Midlands experiences a resurgence in the automotive sector, it is well prepared firms like Midland Deburr and Finish who are actively investing to increase capacity, which are reaping the benefits.