Midland Deburr and Finish win big Formula One contract
05/04/2012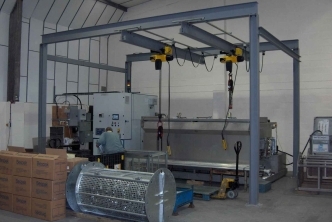 A Stourbridge manufacturing firm has been awarded a prestigious contract with a top Formula One team.
Surface improvement and degreasing specialists Midland Deburr and Finish will degrease the gearbox casings for the sporting giants, who wish to remain unnamed. Midland Deburr joined forces with the team at the end of last year and have degreased seven gear box casings to date.
Managing director Chris Arrowsmith said: "We do a lot of automotive work anyway, so the next step was moving into Formula One, which of course is very lucrative. They used to do that work in-house but they've since discovered a new design for the casing which wouldn't fit in their machine. We've worked with them to create a new jig and they've had better results with us than when they were doing it themselves. Obviously they're extremely high value components so they're delighted with the results."
The firm were recently awarded two new quality accreditations to reflect their ongoing success. ISO 9001:2008 pertains to quality management systems, with ISO 14001:2004 relevant to environmental management systems.
Confirmation of the two internationally recognised standards was received at the beginning of February this year.
Chris said: "We've had the quality management standard for about ten years and we feel it is important to help us to retain our existing business. The environmental standard is becoming increasingly important as customers become more critical of the environmental standards of their suppliers. It shows that the employees throughout the company are aware of their environmental responsibilities and we're not just some backstreet business."
Based on the Lye Valley Industrial Estate, Midland Deburr and Finish specialise in sub contract surface improvement of ferrous and non ferrous components and assemblies.
Following over £100,000 worth of investment in a hermetically sealed solvent degreaser, the firm is able to meet strict emissions levels, removing the responsibility from their customers. Investment has also been made in new Vibro deburring machines, and the level of infrastructure has helped secure two large volume accounts, which will start in the next few months.
Chris said: "Lots of companies have the machines but they stick them in a corner because they don't really have the expertise to go with them. The processes we offer people generally don't want to do them in house because they can make a right old mess. We take people's mess and the environmental issues that go with them away from them."