Finishing experts grow as a result of Trichlorethylene authorisation
24/10/2017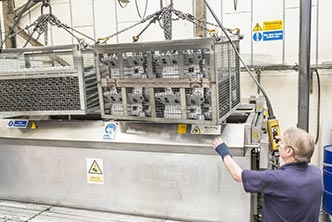 Black Country metal finishing specialist Midland Deburr & Finish (MDF) is enjoying strong growth after receiving clearance to use a highly-effective – but restricted – industrial degreaser.
Trichlorethylene (TRI) is an industrial solvent metal degreaser. Its use is restricted under REACH (Registration, Evaluation, Authorisation and Restriction of Chemicals) guidelines; meaning that companies can only use this material if an authorisation is in place for its specific use.
The REACH process set a sunset date of April 2016 for the use of TRI, effectively banning its use for all other non-authorised applications. During the REACH process, MDF underwent tough scrutiny including an analysis of alternatives, risk management measures and now adopts the COMPLEASE Chemical Leasing programme.
The European Chemicals Agency (ECHA) gave a FINAL recommendation to the EC of a 7 year review period based on these conditions. Recognising the compliancy issues and the need to reassure industry the degreasing process is safe, the firm is taking its responsibilities very seriously.
Following substantial investment, Stourbridge-based MDF will utilise the authorisation that was applied for by its supplier SAFECHEM Europe. The TRI degreasing process at MDF is conducted in hermetically sealed machines, which feature spray and immersion as well as vapour degreasing. Pivot, rotation, ultrasonics and filtration down to 100 Micron particle size are also available as processing options.
The top loading facilities enable large, heavy and complex components to be processed up to 1500mm long, as well as components down to 1mm diameter. Batch sizes from one to many thousands. MDF clean a wide range of automotive components and general engineered ferrous and non ferrous components including presswork, machined parts and bearings.
Chris Arrowsmith, managing director, MDF, said: "The new legislation forced many companies to scrap their old -open-top' solvent degreasers but not everyone has invested in the new, sealed equipment.
"We wanted to continue offering our customers the best service and decided to invest in up to date technology to ensure we are REACH-compliant. As a result, our levels of degreasing business have increased dramatically as we are able to offer industry the option of subcontracting work as opposed to them having to invest heavily in their own plant. The continuity of the repeat process and the degreasing quality is guaranteed."
It is determined to be an exemplar of best practice and is therefore offering free advice on the use of TRI degreasing and how used properly, the process can be the most efficient way of degreasing parts.
For all you need to know about TRI (Trichloroethylene) Degreasing Processes and REACH Compliance, please follow the link: downloads.