Gap in the market allows finisher to clean up
07/07/2011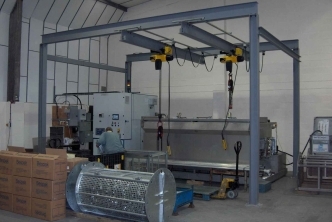 When asked to sum up the essence of his business, Chris Arrowsmith pondered for a moment and then said: "what we do is deal with peoples' problems by taking them away and solving them under one roof."
Chris co-founded Stourbridge-based Midland Deburr and Finish Limited after spotting a gap in the market, namely to provide a cost-effective solution for companies wanting to outsource their 'dirty' processes, such as component degreasing, deburring, mechanical finishing and general surface improvement.
"There are two main aspects to the business," explained Chris, "firstly we specialise in sub-contract vibro deburring and barrelling of ferrous and non-ferrous components. We take the sharp edges off, improve the surface finish, polish them up and make them fit for assembly or plating.
"The other side of the business is degreasing where we take components, degrease them, remove all the oil and then return them to our customers packed or in clean bags."
Over the past few years, companies have been forced to comply with increasingly strict legislation surrounding the degreasing process and, specifically, solvent degreasing which uses trichloroethylene.
Chris explained: "Traditionally, the process was done in old, open top degreasers which produced a vapour which would rise like a mist, cover the components and remove all the oil.
"But it's pretty dangerous stuff and these open-top degreasers - which a lot of companies still have - cannot be used anymore."
To combat this problem and offer a service to customers, Midland Deburr and Finish Limited invested in a large, hermetically-sealed degreaser which still uses trichloroethylene but in a far safer way and one that complies with industry legislation.
The new legislation has forced companies to make some difficult choices about how they 'clean up.' They either have to buy expensive new machinery which complies with current legislation, use a different process or outsource the work to a company such as Midland Deburr and Finish Limited whose hermetically sealed solvent degreaser now provides them with 70 per cent of their business.
Expanding on his original theme Chris said: "the degreasing process we offer takes away all the worries about quality, safety and legislation."
The bulk of the work carried out at the company's premises at the Lye Valley Industrial Estate, Bromley Street, Lye, serves the automotive industry with components eventually going to major players like Toyota, Honda or Land Rover.
"We are an integral part of the process, a very important cog in the wheel but, because this is such a niche market, a lot of people still don't know we are here and what we can offer."
The company, which is approved to ISO9001 standard is also proud of the way it deals with customers, always being upfront, giving honest and realistic deadlines and, if need be, turning things round as quickly as possible.
"We look after people," said Chris emphatically, "we communicate with our customers and establish exactly what they want. We'll ask them what they want us to do and we'll always endeavour to do it.
"A lot of the people we deal with would probably like to have a process such as ours on their site. As I say, we're taking peoples' problems away and solving them under one roof."