Finishing specialists boost capacity
08/12/2011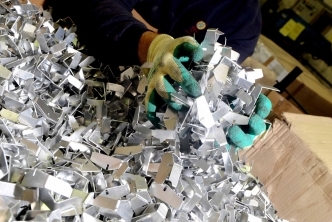 Midland Deburr and Finish Ltd, specialists in vibro deburring and barrelling of ferrous and non-ferrous components, has embarked on an expansion programme which will see its production capacity increase by almost a third.
"We have won a lot of new business over the last 18 months and we need to take steps to cope with growing customer demand," explained managing director Chris Arrowsmith. "Over the coming months, we will be investing in new vibro and barrel mass finishing machines, increasing the number we have from 16 to more than 20, giving us far greater capacity."
Utilising vibro deburring and barrelling processes, Chris and his eight-strong workforce provide a wide range of mass finishing services, including radiussing, scale and rust removal, polishing and pre-plate/paint finishes.
They work with component sizes ranging from 2mm to 700mm, in batches of one to several thousand. The bulk of the company's orders come from component manufacturers in the automotive sector supplying the likes of Honda, Toyota and Jaguar Land Rover.
The other side of the business – the degreasing of finished components – is also becoming busier. Midland Deburr and Finish is currently the only company in the region able to offer a subcontract degreasing service using equipment that is compliant with the Solvent Emissions Directive (SED). This legislation banned the use of open-top degreasers, traditionally used in-house by many manufacturers.
Spotting a market opportunity, Midland Deburr and Finish invested in a state-of-the-art, hermetically sealed degreasing facility. This is now attracting a growing number of orders from companies who need to "clean up" their operations but don't want to change their processes, and are unable or unwilling to invest in new plant, and therefore have to outsource their degreasing requirements.
The facility is designed to process both small and large batch items ranging in length from 1mm to 1350mm. As well as vapour degreasing, the unit has an optional spray immersion and wash process, meaning very high levels of cleanliness can be achieved. The top-loading capability allows very large, heavy components to be accommodated. Specialised packing services are also available.
Chris added: "The degreasing service we offer takes away any worries a customer may have about quality, safety and complying with the SED legislation."
Midland Deburr and Finish, located on the Lye Valley Industrial Estate, Lye, is approved to ISO9001 and is working towards ISO14001 accreditation. Full documentation and traceability are part of a comprehensive quality assurance programme encompassing all its operations, and certificates of conformity can be provided as required.
"Our investment programme will also ensure we maintain our quick delivery times," said Chris. "What's more, we are looking to offer our customers additional, added-value services by acquiring or forging partnerships with finishing businesses who can complement what we do."